FIVB World Tour Finals
Rothenbaum Stadium; Hamburg, Germany
August 15-19, 2018
As the sand in Hamburg, Germany, heats up ahead of the FIVB World Tour Finals, take a look at the men's race, including top seeded Norwegians Anders Mol/Christian Sorum and three-time 2018 gold medalists Alexander Brouwer/Robert Meeuwsen from the Netherlands.
Despite their youth, No. 1 Mol/Sorum are without question the hottest team coming into the Finals after winning 19 straight matches en route to titles at the Gstaad Major, the CEV European Championships and the Vienna Major. The pair became the youngest team ever to win the European Beach crown.
On the other end of the spectrum are four seasoned teams in Spaniards Pablo Herrera/Adrian Gavira, with 102 tournaments under their belts, followed by Brouwer/Meeuwsen (78), Poland's Piotr Kantor/Bartosz Losiak (77) and Italy's Daniele Lupo/Paolo Nicolai (74).
Nicolai/Lupo, the 2016 Olympic silver medalists, are the lone returning members of the 2017 World Tour championships podium in the field, earning bronze a year ago.
Brouwer/Meeuwsen also are highly decorated, earning bronze in Rio, and taking home three 2018 titles: the Doha Four Star, Huntington Beach Four Star and Aalsmeer One Star.
The men's field represents eight countries with Latvia and Poland each boasting two entries. Seven of the 10 pairs have won a FIVB World Tour event in 2017-18.
Regardless of experience or past success, all 10 teams will be battling for the $150,000 gold medal purse, the largest in the history of the sport.
The 10 teams will be split into two five-team pools. This is a return to the inaugural format from 2015. Pool play is set for Wednesday through Friday for the men, with the winners of each pool earning a free pass to the semifinals. The second and third place teams in each pool will play in the quarterfinals.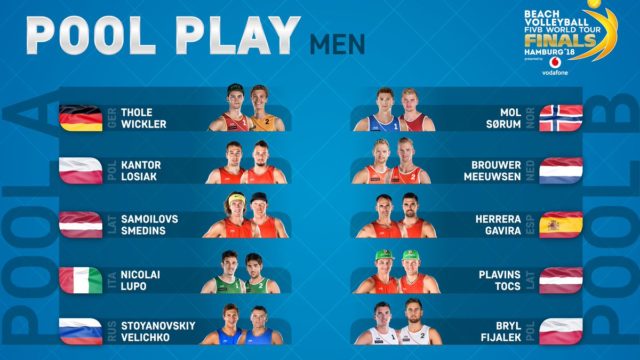 The Field
Who's Missing
There will be a new champions crowned in 2018 as reigning champions Americans Phil Dalhausser/Nick Lucena just missed qualifying as the No. 11 team in the rankings (with just the top eight earning automatic berths. There is not an American men's team in the field, ending the USA's streak of three straight FIVB World Tour Finals podium finishes.
The Brazilian men. Due to several partner switches in May 2018, none of the Brazilian men's duos earned enough qualifying points to make it into the top eight in the World Rankings. There has been a Brazilian men's team on the podium each of the last three years.
World Tour Finals History
2017 – Hamburg, Germany

Men: Americans Phil Dalhausser/Nick Lucena won gold followed by Evandro Goncalves Oliveira/Andre Loyola Stein (Brazil) and Paolo Nicolai/Daniele Lupo (Italy).

2016 – Toronto, Canada

Men: Alison Cerutti/Bruno Schmidt (Brazil) took gold, followed by Evandro Oliveira/Pedro Solberg Salgado (Brazil) and Tri Bourne/John Hyden (USA).

2015 – Fort Lauderdale, Florida

Men: Alison Cerutti/Bruno Schmidt (Brazil) – gold; Phil Dalhausser/Nick Lucena (USA) – silver; Evandro/Pedro Solberg Salgado (Brazil) – bronze