Vaduz One Star
Vaduz, Liechtenstein
Aug. 8-11, 2018
It wasn't an easy road for Allie Wheeler/Lara Dykstra, but the Americans won their first World Tour medal as a pairing on Saturday.
The 14th seeded duo, which started the tournament with a tiebreak win in the opening qualifying round, went 6-1 en route to the title in their first FIVB tournament together.
After topping Italians Carolina Ferraris/Francesca Michieletto 21-13, 20-22, 15-13 to open the tournament, the pair solidified its spot in the main draw with a sweep of Switzerland's Kim Huber/Tatjana Greber. Wheeler/Dykstra won their third in a row to open Pool C play, before stumbling against Greeks Konstantina Tsopoulou/Dimitra Manavi in the pool title match           (21-16, 21-17).
The Americans bounced back in the Round of 12, topping Sweden's Fanny Lindstrom/Sara Malmstrom (21-13, 21-11). In the quarterfinals the pair hung on for a tiebreak win over Austria's Dorina Klinger/Ronja Klinger (21-18, 16-21, 15-8). Finally, a sweep of Swiss duo Esmee Bobner/Zoe Verge-Depre (21-19, 21-19) put the pair in the finals.
With the gold medal within reach, Wheeler/Dykstra came through with a 21-13, 21-17 victory over 10th-seeded Agata Ceynowa/Martyna Kloda of Poland. Wheeler is in her first season as a pro after completing her senior season at USC in May.
"Above all, we used the tournament to grow as a team and gain confidence in ourselves," the pair said. "We succeeded well and we are very happy that we could win one of our first overseas tournament."
Ceynowa/Kloda went 5-1 en route to the final, including four tiebreak matches. The Poles dropped their Pool B opener but rallied with five wins in a row, coming from behind in two of them. The silver medal marked the first FIVB podium finish for the Polish side.
Manavi/Tsopoulou captured their first FIVB medal as a duo with a 21-14, 10-21, 15-13 win over Bobner/Verge-Depre in the bronze medal match.
On the men's side, Russians Taras Myskiv/Valeriy Samoday pocketed their second straight gold, following the winning effort in Ljubljana with a qualifier to victory run in Vaduz.
The gold medalists kicked off the tournament with a sweep in qualifying Round 2. Myskiv/Samoday tacked on two more straight set wins to take the Pool B title, skipping ahead to the quarterfinals. A tiebreak win over Ukraine's Oleksii Denin/Denys Denysenko (20-22, 21-17, 24-22) in the quarters pitted Samoday against his former partner Sergiy Popov of Ukraine. The Russians defeated Popov/Vladyslav Iemelianchyk 31-29, 21-14 to make the title match. Once there, it took a comeback victory over fifth seeded Swiss pair Florian Breer/Yves Haussener (29-31, 21-17, 15-11) to nab the duo its second straight gold.
"We are obviously extremely happy to win our second tournament in two weeks," Myskiv/Samoday said. "We will continue to work hard in order to keep improving each day."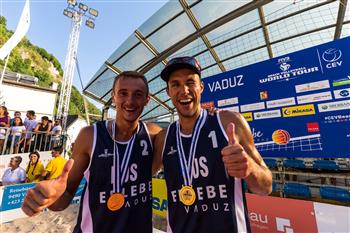 The silver medal marked the second podium finish in a row for the Swiss pair, following a bronze medal in Ljubljana last week. Breer/Haussener won Pool D and outlasted countrymen Quentin Metral/Simon Hagenbuch (14-21, 21-18, 28-26) in the quarters and Polish pair Mateusz Paszkowski/Mateusz Lysikowski (24-22, 21-19) in the semis to reach the matchup with the Russians.
Popov/Iemelianchyk notched their second FIVB medal of the year, following a gold at the Porec One Star , with the bronze in Vaduz. The Ukrainians topped Paszkowski/Lysikowski 21-12, 21-16 for third place.