VOLLEYBALL AT THE 2018 ASIAN GAMES – WOMEN'S INDOOR TOURNAMENT
August 20th, 2018 – September 1st, 2018
Bulungan Sport Hall & Gelora Bung Karno Sports Complex, Jakarta, Indonesia
While the Thai story was the best one of the women's indoor volleyball tournament at the 2018 Asian Games, advancing to the gold medal final even without their top scorer Chatchu-on Moksri, China fulfilled their destiny as by far the most dominant team in the tournament on Saturday afternoon in Jakarta. The Chinese women finished off their perfect run through the tournament with another 3-0 sweep, the same score as every other match they played, for their record 8th Asian Games gold in women's volleyball.
Meanwhile, defending champions South Korea beat Japan 3-1 for the bronze medal.
Championship Bracket (Final)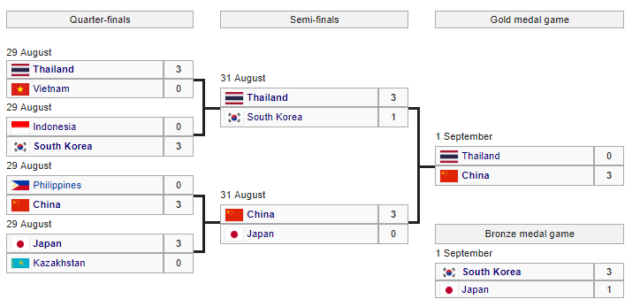 Gold Medal Match
China def. Thailand 3-0 (25-19, 25-17, 25-13)
China got stronger as the match went on, and for the first time in this tournament they went all-in on their superstar, outside hitter Zhu Ting. She had 23 of the team's 51 kills to go with 3 blocks for 26 total points. It only took her 41 swings to get those kills, which means a 56.1% hitting percentage.
Meanwhile, Zhu also had her best game of the tournament defensively, recording no reception errors and just 1 dig error. China was able to neutralize the Thai service game that had carried them through, even after the loss of Moksri, and held them to no aces in the match. China had 3 aces of their own, though generally Thailand was also outstanding in service receipt, with a 71.21% success rate.
China showed their class at the end of the match, where they ran off the last 6 points of the tournament with a Zhu kill, a Li kill, a Gong kill, a Li kill, a Li kill, and a Zhu kill: none of those points coming from Thai mishits. Li finished as China's 2nd-leading scorer with 11 kills and an ace, while Gong was 3rd with 9 kills, a block, and an ace.
Thailand struggled to catch a spark offensively, and were led by 8 kills from Wilavan Apinyapong. The most encouraging thing out of the gold medal matchc was the 7 kills and 1 block from 23-year old Ajcharaporn Kongyot. She didn't make her tournament debut until the semi-final, where she made a limited appearance after dealing with a knee injury. On Saturday, though, she was 2nd on the team in both kills and attacks. While her efficiency rate was just .190, she handled the increased workload: an important marker ahead of the World Championships.
Bronze Medal Match
South Korea def. Japan 3-1 (25-18, 21-25, 25-15, 27-25)
In Saturday's bronze medal match, South Korea was going to win or lose on the arm of Kim Yeon-koung. With 60 swings, she came through to the tune of 29 kills, added to 2 blocks and an ace for a 32-point game. She also added 22 digs and a 65.85% excellent serve reception rate as South Korea defeated Japan 3-1.
Japan, as has been its story all tournament, was safe, but showed inconsistency in the match. While they only gave South Korea 12 points on errors, in some moments they appeared dominant, while in others they disappeared. Yuki Ishii led the team in scoring with 15 kills, as she has all tournament, while Risa Shinnabe added 12.
Korea had 15 blocks in 4 sets, as compared to just 5 for Japan, with 6 different Koreans having at least 2. Jaeyong Lee had 3 blocks and 13 kills in the match: a scoreline equaled by teammate Hyojin Yang.
This marks the 3rd-straight trip to the podium for South Korea after bronze in 2010 and gold in 2014; while for Japan it marks a 3rd-straight miss after 12-straight medals from 1962 through 2006.
Consolation Bracket
Kazakhstan beat Vietnam 3-1 for 5th place in the tournament. Vietnam, in 6th, still earned their best-ever finish at the Asian Games. Indonesia, the host team, ended its tournament with a victory as well, winning 3-1 over the Philippines.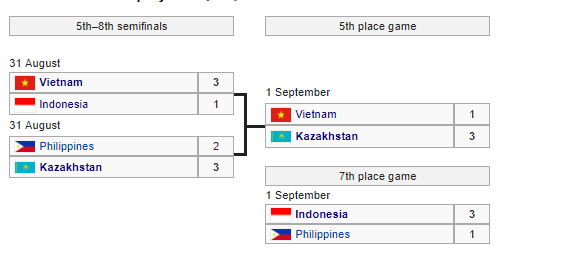 Final Standing
| Rank | Team | Pld | W | L |
| --- | --- | --- | --- | --- |
| |  China | 8 | 8 | 0 |
| |  Thailand | 7 | 6 | 1 |
| |  South Korea | 8 | 6 | 2 |
| 4 |  Japan | 7 | 4 | 3 |
| 5 |  Kazakhstan | 8 | 4 | 4 |
| 6 |  Vietnam | 8 | 3 | 5 |
| 7 |  Indonesia | 7 | 3 | 4 |
| 8 |  Philippines | 7 | 1 | 6 |
| 9 |  Chinese Taipei | 6 | 3 | 3 |
| 10 |  India | 7 | 1 | 6 |
| 11 |  Hong Kong | 5 | 0 | 5 |