With the results of Saturday's World Grand Prix finals complete, VolleyMob can project what the new FIVB Women's Rankings will be after Sunday's matches.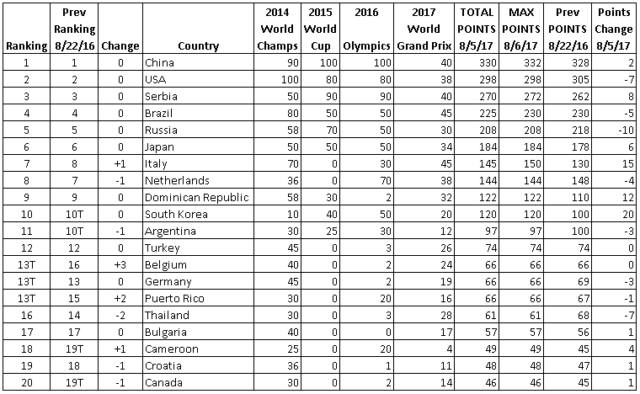 China will maintain their Number 1 World Ranking even with their loss to Italy on Saturday. The Chinese took over the top spot after last year's Olympics in Rio with 328 points. If they beat Serbia on Sunday, they will reach 332 points.
The USA women will remain second losing 7 points from their score from the last ranking after the Rio Olympics. That is due to the not making the semifinals in the World Grand Prix, where they finished 2nd last year.
Serbia will also remain third no matter their result. By making the medal round of the Finals, Serbia was able to increase their points by 8 and possibly 10 with a win over China on Sunday.
Italy with their win over China today, enabled the Italian to jump over the Netherlands into 7th place by 1 point. If the Italian had lost to China, the Netherlands would have remained in 7th.
Brazil, Russia, Japan, Dominican Republic and South Korea all maintained their positions in the top 10.
In positions 11-20, Argentina dropped one to 11th due to lower finish in the World Grand Prix Group 2. Turkey held their position in 12th. There is a 3-way tie for 13th between Belgium, Germany and Puerto Rico. Thailand dropped from 14th to 16th with their performance in the World Grand Prix Group 1. Bulgaria maintained 17th, Cameroon moved up 1 spot due to their participation in World Grand Prix Group 3. Croatia and Canada round out the Top 20.
Unless the FIVB adds Continental Championship results back into the ranking points, this may be the only ranking for 2017.