2017 FIVB Volleyball Men's Club World Championship
December 12 – 17
Lodz, Opole, Krakow – Poland
After four straight editions held in Brazil, the FIVB Volleyball Men's Club World Championship will move to Poland for its 2017 edition from Dec. 12-17, 2017. This will be a nice change of scenery, as just like Brazil, Poland has many volleyball supporters. Let's not forget that this is a country who once put 66,000 spectators on the stands for a volleyball match. In Ary Graça's, FIVB's president, words:
This will be the best Club World Championships the FIVB has ever staged with the end of year timing providing a wonderful opportunity to showcase the best of our wonderful sport. Poland has a great tradition of staging outstanding volleyball events as witnessed by the FIVB Volleyball Men's World Championships in 2014 and we're expecting another great show featuring the best volleyball athletes in the world playing in front of the world's most passionate volleyball fans.
Eight teams will be split into two pools with four with teams playing each other in a round robin format to determine the overall classification for the knockout stage. They are:
Pool A
Sada/Cruzeiro (2017 South American Champions). The two times defending champions is after its third straight gold medal and fourth overall in the history of the tournament, after winning the 2013, 2015 and 2016 editions of the competition – all three in its traditional hometown of Betim. It will be led by Cuban standouts Yoandy Leal and Robertlandy Simon.
Sarmayeh Bank Teheran VC (2016 Asian Champions). It will be playing in the tournament for the first time. In their short history the club has won the last two editions of tIran's National Championship. It will be led by Polish standout Łukasz Żygadło and Iranian national teamers Farhad Ghaemi and Mojtaba Mirzajanpour.
Zaksa Kedzierzyn Kozle (Hosts). It will play its first ever Men's Club World Championship after winning Poland's national title, which gave it an automatic berth as hosts. It will be led by experienced French setter Benjamin Toniutti.
Pool B
Bolívar (2017 National Champions from the top 2 countries in the FIVB World Ranking as of 31 December 2016 from not yet qualified countries). Bolivar is making its third ever FIVB Volleyball Men's Club World Championship appearance, after finishing fourth both in 2010 at Doha and last year at Betim. It will be led by experienced Serbian hitter Milos Nikic. 15-year-old Argentinian volleyball promise Luciano Roitero is on the team's roster for the tournament, although it is doubtful he will see any action.
Shanghai VC (Wild Card). The club has been a dominant force in the Chinese League since its debut 1997, winning 13 titles in 21 editions, including the last three running. It will be led by Argentinian national Facundo Conte and French national Julien Lyneel.
Skra Belchatow (Wild Card). This will the club's fourth appearance in the tournament. It has made the podium in all three previous appearances (all in Doha), even though the world title still eludes them, as it lost in the finals in 2009 and 2010 to Italy's Trentino. It will be led by Polish legend Mariusz Wlazly.
Zenit Kazan (2017 European Champions). Even though the club has won a record five European Champions League titles under their belt (including the last three editions), the FIVB Volleyball Men's Club World Championship title still eludes the Russian side. It has gone down in the finals to Brazil's Sada/Cruzeiro in the last two tournament editions. It will be led by Team USA star Matthew Anderson and Cuban superstar Wilfredo Leon.
Host Cities
Round play will be contested in Łódź and Opole. Semifinals and Finals will be held in Krakow.
Opole
One of the oldest towns in Poland, dating back to the 9th century, Opole is located in country's southern region next to river Oder. In the past, the city has belonged to Bohemia, Prussia, and Germany.
The Opole Arena, built in 1968, sits 3500 spectators and has a rich volleyball tradition. It underwent a general renovation that was completed in September 2017. Its first volleyball event took place on June 24, 1983, when the Polish volleyball team beat the United States 3-0 in a friendly match.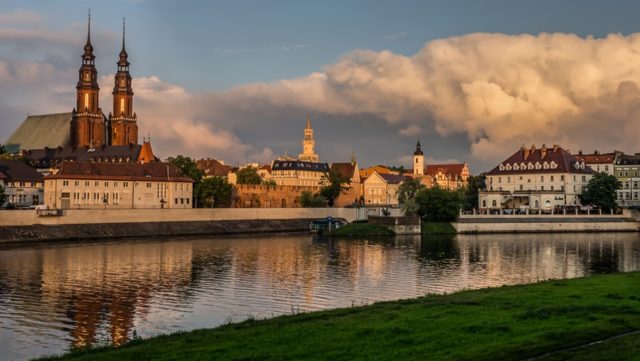 Łódź
Located at the centre of Poland, and also its third most populated city, Łódź is a multicultural city with remarkable history, featuring ancient palaces and villas. The Atlas Arena is a multipurpose indoor arena opened in 2009. It sits 13,400 spectators. In 2014, it hosted some of the FIVB World Championships matches and in 2016, it was host for the World League preliminary round.
KrakowKrakow, a city with more than a thousand years of tradition, is the second largest city in Poland, also its former capital, and an important European metropolis. The Tauron Arena Kraków is the largest sports venue of its type in Poland and one of the most modern sports facilities in Europe. The hall can house 15000 spectators in its setup for volleyball and many more can view the action outside, on the state-of-the-art giant screen which encompasses a section of the stadium. The arena has been linked to volleyball from the very start, as the Poland vs Brazil 2014 World League match was the first sporting event hosted by the hall.
Pool Play Schedule
Pool B
Date
Matchup
12 Dec
Zenit Kazan
x
Bolívar
12 Dec
PGE Skra Bełchatów
x
Shanghai VC
13 Dec
Zenit Kazan
x
Shanghai VC
13 Dec
PGE Skra Bełchatów
x
Bolívar
14 Dec
Shanghai VC
x
Bolívar
14 Dec
PGE Skra Bełchatów
x
Zenit Kazan