With the conclusion of the FIVB World Grand Prix with Brazil's win over Italy in 5 sets in Nanjing today. VolleyMob can now publish the final prize money table for the 2017 FIVB World Grand Prix. With $4.485 million in prize money awarded (including $50,000 for individual awards for Group 1), Brazil by winning the final alone took home $600,000 and giving them a grand total of $785,000. This is largest amount of prize money won by a team in the FIVB World Grand Prix. 2017 was also the first time that the winner had taken home more than $500,000.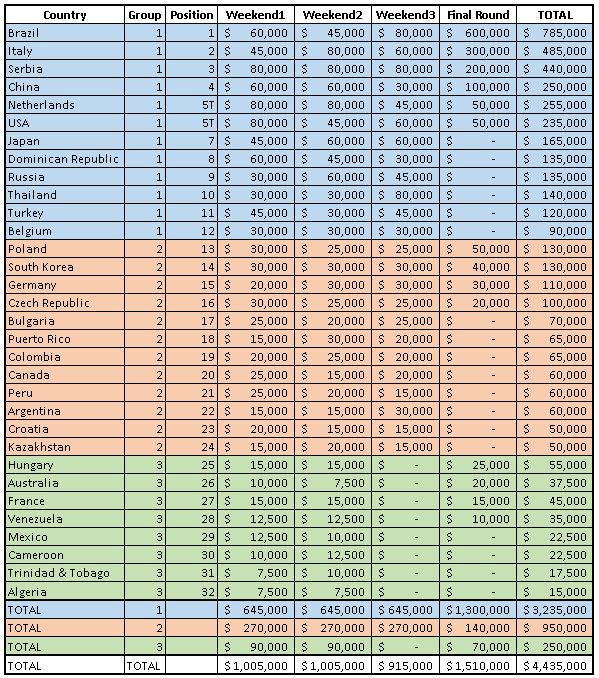 Italy was second with $485,000 in prize money. If they had performed better in the first weekend, they also may have won more than $500,000.
Serbia was third with $440,000. Netherlands was 4th in prize money at $255,000, but finished 5th in the tournament after losing to China in Pool play on Friday in 5 sets. China was 5th in prize money at $250,000. The USA finished with $235,000 with their 5th place finish in the Finals.
In Group 2 teams, Poland and South Korea tied at $130,000 for the 4 weeks of play in the World Grand Prix. Germany and Czech Republic finished with $110,000 and $100,000 respectively.
With Group 3 teams, Hungary by winning the Finals took home $55,000. France was second with $45,000 in prize money but finished third after losing to Hungary in the semifinals. Australia as the hosts did not perform well in the first two weeks of the Grand Prix and benefited from Venezuela not making it to Canberra for the semifinals and took home $37,500. Venezuela made $35,000 with their 4th place finish, but as VolleyMob as mentioned before, this prize money may not cover their fines for missing two matches in the Group 3 Finals.