2017 FIVB VOLLEYBALL WORLD GRAND PRIX – GROUP 1
Group 1 Final Six
August 2nd-6th, 2017
Nanjing, China
FIVB World Grand Prix, Group Play of Final Six
The semi-finals are set at the 2017 FIVB World Grand Prix. While the Dutch made a big push in their Friday evening match against China to pull off a come-from-behind win, Zhu Ting was ultimately too much, as the Olympic Champions won 3-2.
That sealed up their Pool J1 win and eliminated the Netherlands from the tournament, thereby setting the semi-finals in stone.
In the early game, Serbia, who were the top-placing team in pool play, will face off against the defending Grand Prix champions Brazil. In the other game, defending Olympic champions China will face off against Italy and their emerging superstar, and the tournament's leading scorer, Paola Egonu.
This leaves open the potential for an Olympic rematch of Serbia and China in the final, if both win their matches.
The final 4 Bracket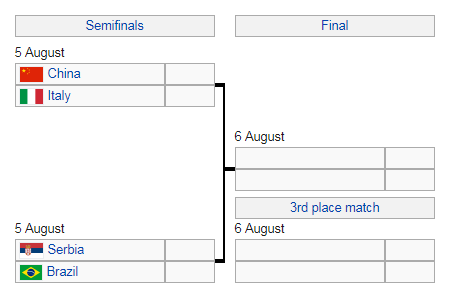 Game Times:
China vs. Italy, 15:00 Nanjing time, August 5th
03:00 U.S. East Coast Time
04:00 Brazil Time
09:00 Italy Time
09:00 Serbia Time
Serbia vs. Brazil, 20:00 Nanjing time, August 5th
08:00 U.S. East Coast Time
09:00 Brazil Time
14:00 Italy Time
14:00 Serbia Time
Serbia vs. China, bronze medal match 15:00 Nanjing time, August 5th
03:00 U.S. East Coast Time
04:00 Brazil Time
09:00 Italy Time
09:00 Serbia Time
Italy vs. Brazil, Championship Match, 20:00 Nanjing time, August 6th
08:00 U.S. East Coast Time
09:00 Brazil Time
14:00 Italy Time
14:00 Serbia Time
Final 6, Day 3 Full Match Replays and Highlights
China def. Netherlands 3-2
Serbia def. Italy 3-1